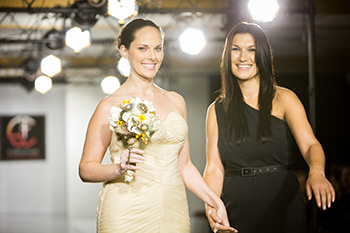 Thank you for your interest in participating in Christian Fashion Week, which will take place February 15-20, 2015, with our main show being held on that Friday night Feb. 20th, 2015.
Christian Fashion Week is where fashion meets faith in a way that challenges all types of designers to create something wholesome and life giving with God as their inspiration. We are committed to redefine beauty in the fashion industry, by showcasing established and emerging fashion designers, exposing them to buyers, services, entrepreneurs, press, and industry professionals to increase their reach in the global market.
The challenge is simple, design a clothing line for the modest woman without sacrificing style. Our show is open to ALL designers, whose focus is on designing for today's modest woman.
Our goal as Christian Fashion Week is to show the world that it is possible to be a Christian and be able to integrate fashion into our lifestyle, without compromising our beliefs. Christian Fashion Week wants people to know that we C.A.R.E. about Contextual modesty, Affordable fashion, Responsible usage of natural resources, Ethical labor practices.
$250 Registration Fee for 2015 Show!
In order to participate in our 2015 showcase, you must apply and be accepted to showcase your collection. A $250 registration fee is required, which is fully refundable if your collection is not accepted to be part of our showcase.
All applicants must follow Designer Fashion Show Guidelines.

Applicants must have 8-12 original garment designs that have not been seen or previously showcased.

Final deadline to submit application and materials is Sept. 30th 2014.

Designers selected to participate in Christian Fashion Week 2015 may purchase exhibitor (vendor) space.

If selected for participation in Christian Fashion Week 2015, you will be asked to place a credit card on file. If you decide not to participate in Christian Fashion Week (once you have been chosen) a cancellation fee of $500.00 dollars will be charged to help cover the expenses associated with your participation and exposure through Christian Fashion Week.
What's In It for Designers?
If selected to showcase your collection at Christian Fashion Week 2015, participation includes:
Designer & company name, logo and/or link on the official CFW 2015 website, marketing materials and media advertisements.

Professional runway, stage, lighting, and sound production to showcase your collection.

Professional fashion show production staff, volunteers, and designer assistants on site.

Press interview opportunities, photo shoot opportunities.

Refreshments and light meal the day of the show.

An opportunity to become the beneficiary of the Christian Fashion Fund.

International media exposure.
To gain INSTANT access to our Designer Center, just create your FREE Backstage account and tell us about yourself.